Whether you want to rewire your house, move a few switches or set up your home theatre system, an electrician is what you require to do it all. But, selecting the right electrical service provider can be a tough task. Jolt Electrical is one of the most trusted names in your region with years of experience. Our residential and commercial Bronte electrical services can do it all. From smart home installations to electrical troubleshooting, you can call our electrician Bronte for all kinds of residential and commercial services.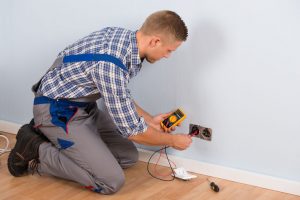 Why Jolt Electrical?
We offer supreme quality domestic and commercial Bronte electrical services. Our team is available to provide tailored advice and solutions for all your electrical needs, 24/7. What makes us unique from the rest are –
Our availability 24/7 every single day
Our Electrician Bronte is mobile and available within an hour of your job request
Our electrical equipment and tools exceed the set quality standard
Our electricians are fully licensed and insured ensuring the best craftsmanship
Best safety technology used to ensure customer's security
Our Bronte electrical services can be tailor-made to suit your needs
Our technicians are friendly and easy to work with
Transparent pricing, no hidden costs
Our Services
Lighting is one of the most important factors in a room, office, entrance foyer, or outdoor area. We have experience in working every aspect of electrical lighting and installation. We offer a quality, friendly and professional service. Our vans are stocked with the parts and products, so we can resolve common electrical problems on the spot. We have competitive pricing and no hidden costs. We pride ourselves in offering a transparent Bronte electrical service and always look to maintain lasting relationships.
At Jolt Electrical, we pride ourselves for offering quality workmanship and Bronte electrical service. All our electricians Bronte are fully licensed and insured and comply with the health and safety standards for home and workplace. We care deeply about the quality of the work we offer and have strict quality controls to ensure our customers get the best. We're serious about what we offer and give a full lifetime warranty on all our repairs and installations.
Whether electrical testing, switchboard upgrade, alarm system, lighting or emergency electricians Bronte, Jolt Electrical meet all your needs related to electrical. If you need our service, you may call and talk to the owner direct, and Christ will readily help you with every detail. We also offer a free consultation and quote if you need. All our electricians have the required skill, expertise, and motivation to deliver high-quality Bronte electrical services. Get in touch with us today to ease your worries and meet not only the emergencies but also take necessary precautions by regular maintenance and repairing of the electrical accessories at home and workplace. We also service Little Bay, Malabar, Maroubra, Coogee, Randwick, Kensington, Bronte, Paddington and Bondi.