Are you looking for a local electrician in Kensington? Jolt Electrical is one of the best names with goodwill for over 3 decades. The customers vouch for the services of Jolt Electrical. For any electrical emergency, you may connect with us at any hour of the day. Whether 11pm or 2am, Jolt Electrical is your local and licensed electrician Kensington.
Electricity is a basic necessity for all today. One cannot think of a life without electricity, and people expect it to be top-notch and conveniently working. But, many times electricity is affected due to various reasons. The electric installations can get affected while changing your business or home to some other location. You may buy a new house or office that may need new electrical installations or smart home solutions. Last but not least, power cuts are the worst ones. From lights, to plug points to wiring, our electricians are well versed with every aspect of an electrical fixing and installation tasks.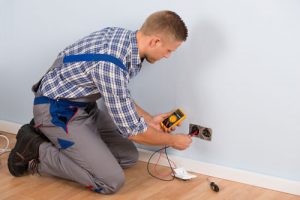 Why Jolt Electrical Kensington?
The professionals working with Jolt are fully insured and highly knowledgeable. We are available 24/7, regardless of night or day. The latest electrical techniques and technologies are adopted and implemented by the experienced Jolt electrician Kensington. This helps us to offer comprehensive installation, repair, and maintenance services.
Our expert and specialised electricians Kensington reach your place in a fully-equipped vehicle with all the tools required to fix your electrical hassles everything they need to get your electrical hassles sorted out in record time. Whether small or big, Jolt Electrical believes that every client is equal and offers the same level of expertise and thoroughness to all. We do not add any hidden charges to customers. With over 30 years of experience, day and night electrician Kensington means Jolt Electrical. It is one of the most trusted names ruling in the region for offering any types of electrical tasks.
What do we offer?
With extensive experience and efficient customer-service, the licensed electrician in Kensington at Jolt Electrical has what it takes to finish your electrical project. From commercial to residential projects, we take up all. Just like you people, we also use electricity every day. So, we are aware of the fact that an electrical contractor must be highly efficient to successfully perform his job. Every task we take up is performed efficiently, safely, efficiently, on a budget, and on time.
Apart from offering electrical services, our range also includes communication tasks, security solutions, and smart home installations. We also offer eco-friendly products to make your abode completely well-lit and secured.
Jolt Electrical is completely family owned and operated electrician Kensington, the service provider. We are insured contractors and fully licensed to offer lighting, electrical, and security solution for commercial and residential properties. You may connect with us at any time and request a free estimate or service. You may also call us for additional information about the services we offer. We also service Little Bay, Malabar, Maroubra, Coogee, Randwick, Kensington, Bronte, Paddington and Bondi.